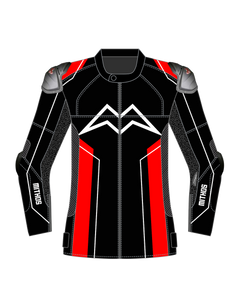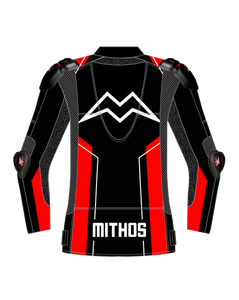 The Mithos leather jackets, as well as any custom leather suits from Mithos Sport, are made of soft leather. This can be perforated in three different levels to ensure sufficient ventilation - whether for the use of the suit on the road or on the racetrack.
Our tailor-made leather jackets are additionally reinforced in the collarbone areas as well as on the sides in the back area. Double leather inserts, which can be cowhide or kangaroo leather, provide additional protection at the elbows and ensure maximum safety on the bike.

Safe protectors
Mithos uses only certified protectors that protect the shoulders, elbows, knees and back. All protectors used can be individually positioned for optimal comfort and are also certified according to the EN 1621-1 standard.

Optimal temperature exchange
For optimal temperature exchange under the suit, Mithos uses strategically placed perforations, which are seamlessly integrated into the leather suit. In addition, each combi has a removable antibacterial lining and an aerodynamically designed back panel with ventilation. This regulates the temperature inside the suit and also minimizes sweating.

Material
Mithos uses only extremely durable and comfortable cowhide or kangaroo leather. The cowhide has a thickness of approx. 1.2, the kangaroo leather is slightly thinner at approx. 1.0 mm.

Airbag compatibility
Our Mithos motorcycle jackets are compatible with an airbag in the latest version. For more info on the available airbag models and the differences between race and street airbags, click here.