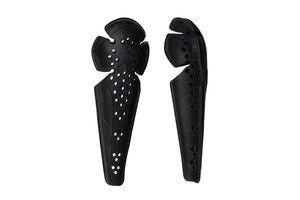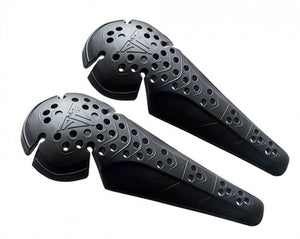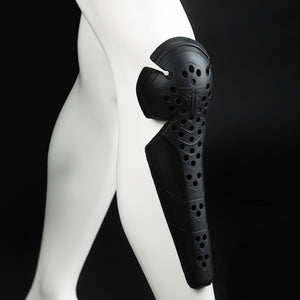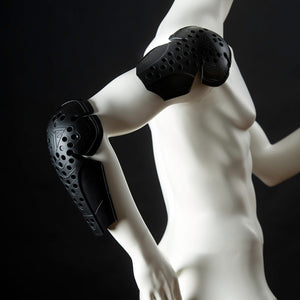 The set of Paramount protectors consists of 6 ready-made protectors that are supplied with Velcro pockets. This means that the protectors can be attached directly to the motorbike clothing, for example to your customised racing suit. The 3D protectors made of viscoelastic soft foam have excellent impact absorption values with a residual force of less than 8.5 kN (standard, level 2: 20 kN). The protectors undercut the prescribed standard EN 1621-1:2012, level 2: the residual force values of the Paramount are exceeded by up to four times. As the protectors are not destroyed in the event of an impact and are also washable, a long-term use is guaranteed. With the Paramount protectors and a Mithos custom leather suit, you will always be safe on your motorbike.
ONE SHAPE, THREE LENGTHS
We recommend shortening this protector to the appropriate length you need. This way, the Paramount protector can be used for the shoulder, knee and elbow area. The high-end technology ensures even more safety on the motorbike.
Article: Paramount Protection
Weight: approx. 185 g / piece
Dimensions (L/W/H): approx. 400/180/22 mm
Protection level: 2 (average residual force under 20 kN)
Symmetrically designed for double-sided use.
Washable: remove, separate hand wash/ water absorption less than one percent.