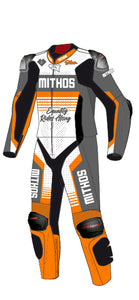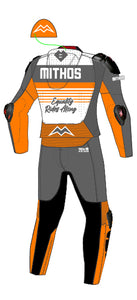 The Mithos mass leather suits are made of soft leather, which can be perforated as desired in three different levels. In this way, sufficient ventilation can be ensured, whether for the use of the station wagon on the road or on the racetrack.
Our custom-made suits are additionally reinforced in the areas of the collarbone as well as laterally in the back area. In addition, every station wagon, regardless of the model, has replaceable knee grinders. Double leather inserts – even cowhide or kangaroo leather as desired – additionally protect elbows, knees and buttocks and ensure maximum safety on the motorcycle.
Optionally, each Mithos mass leather suit can be retrofitted with a SAS-Tec CP-1 chest protector to be even safer on the road or racing motorcycle.
Robust hard shells
TPU D64 hard shells are used on our leather suits as protection on elbows, knees and shoulders. These hard shells comply with the safety standard used in the Moto2 World Championship. The hard shells used are highly elastic, impact-resistant and have an extremely light weight and good abrasion resistance thanks to the combination with high-strength polyamide fibers. The built-in honeycomb structure also contributes to lightness and stability. The elbow grinder on the elbow hard shell is also individually replaceable.
Safe protectors
Mithos only uses certified protectors that protect the shoulders, elbows, knees and back. All protectors used can be individually positioned for optimum wearing comfort and are also certified according to the EN 1621-1 standard.
Optimal temperature exchange
For the optimal temperature exchange under the station wagon, Mithos uses strategically used perforations, which are seamlessly integrated into the leather combination. Each station wagon also has a removable antibacterial lining and an aerodynamically designed back with ventilation. This regulates the temperature in the combination and minimizes sweating. The space created by the aerodynamic shape in the back area can be equipped with a water bag, the drinking hose of which is led forward through an opening provided for this purpose.
Wearing comfort
The made-to-measured leather suits by Mithos are equipped with stretchy neoprene and mesh inserts on the collar, which ensures optimal wearing comfort. In addition, the leather suit offers great freedom of movement through elastic leather parts in length and width of the back, chest and arm area as well as stretchable Schoeller Keprotec stretch areas on the arm, on the side trunk and in the back knee area.
Material
Mithos uses only extremely resistant and comfortable cowhide or kangaroo leather. The cowhide leather has a thickness of about 1.2, the kangaroo leather is slightly thinner with about 1.0 mm.
Airbag compatibility
Our Mithos mass leather suits are RCP18 version compatible with an airbag. More information about the available airbag models and the differences between racing and road airbags can be found here .