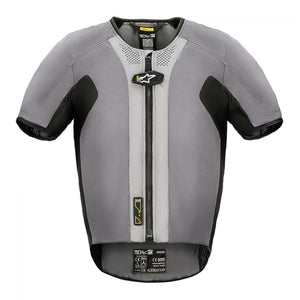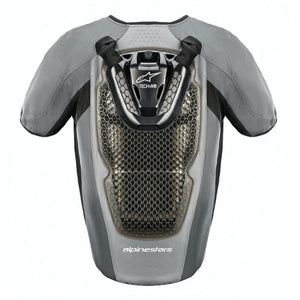 In combination with a suit or jacket order, Mithos also grants a special price of only CHF 620.

Alpinestars has been redefining protection for motorcyclists ever since the company was established in 1963, and today sees the brand launching Tech-Air® 5, the all-new, autonomous motorcycling airbag system. Tech-Air® 5 is the latest addition to the Alpinestars Tech-Air® family, which includes the Tech-Air® Race and Tech-Air® Street systems. Alpinestars continues to lead the way in active air-bag technology for riders and their passengers.
Features:
Tech-Air® 5 is a slim, self-contained wearable airbag vest that can be worn under any proper fitting textile jacket or Tech-Air® compatible jacket.

Tech-Air® 5 offers unrivaled upper body protection, keeping motorcycle riders safe by uniquely covering the shoulders, chest, ribs and full back.

Shoulder protection is critical in a road impact and riders' shoulders are uniquely protected by Tech-Air®, effectively and efficiently minimizing the risk of the rider sustaining shoulder and collarbone injuries.

Integrated sensors: Should the algorithm detect the start of a crash, it will deploy a protective airbag, with a maximum inflation time of 45ms.

The impact absorption while wearing the airbag results in a decrease of the impact force by up to 93% compared to a passive protector.

The system is also extremely easy to use, just zip up the vest, close the magnetic flap and you're ready to ride.
SPECIFICATIONS
Technology:
The state-of-the-art Tech-Air® 5 vest comes with an active electronic system that features six integrated sensors (3 gyroscopes and 3 accelerometers) and a crash algorithm that leverages AI to accurately monitor when to deploy the airbag in the event of a crash. The intelligent crash detection algorithm has been developed together with the world's top MotoGP riders, and Alpinestars customers, and includes over 2,000 crashes of data to accurately assess when to deploy a full airbag inflation before the first impact with an obstacle.
Tech-Air® 5 has Bluetooth connectivity and an accompanying Tech-Air® App, which uses the rider's phone to display the system's operational status, battery status and a detailed analysis of a ride.
Battery:
lithium ion battery has a battery life of 30 hours of riding time. An LED display indicates the airbag's operational status. The system comes equipped with a magnetic micro USB charger.