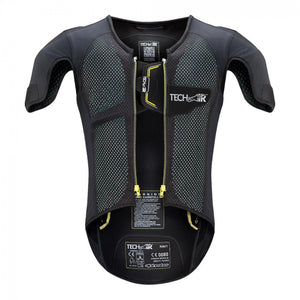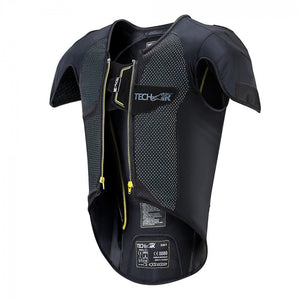 After more than a decade of development in MotoGP and following the Alpinestars first generation racing airbag system and the introduction of the innovative Tech-Air® Street, this latest version of Alpinestars Tech-Air® technology brings complete upper body protection to ambitious motorcyclists who are not only on the road but also on the race track. The Tech-Air® Race is completely self-contained, meaning no individual configurations are required between motorbike and rider, ensuring the ultimate in comfort. When fully inflated, the airbag provides critical protection for the back, kidneys, chest and shoulders. With a simple upgrade to the software, the Race system can also be configured to be used on- and off-road with the Tech-Air® Street setting. The Tech-Air®Race waistcoat needs to be used in Tech-Air® compatible clothing - Mithos' RCP18 tailored suits are compatible with the TechAir® airbag waistcoat.
SPECIFICATIONS
• Electronic Airbag Control Unit (ACU) incorporated within strong, lightweight, ergonomic polymer back protector, optimized for race and track use.
• Electronic sensors incorporated in the system's chassis, mean vest is completely self-contained and allows it to be worn interchangeably with compatible garments.
• Specially designed, race-developed back protector, offering comprehensive inflatable full upper body protection for back shoulders, kidney area, chest and upper abdomen.
• Incorporates removable inner mesh and elastic Velcro® waistband to position airbag system and ensure custom fit and improve adjustability.
• Deployment system utilizes argon inflator cartridges which are CE certified to ISO 14451 standard.
• System's firmware is upgradable and can be configured to run the Tech-Air® Street airbag settings for non-racing use in road and off-road situations.
• ACU is seal-protected within vest to ensure its all-weather performance and the vest and componentry are certified to function in all weather conditions between -10⁰C and +50⁰C.
• ACU has been homologated to ECE R10 04, which ensures the electromagnetic integrity and stability of the unit.
• System uses an integrated, certified lithium ion battery, with a battery life of 25 hours and a recharge time of approximately 6 hours. Micro USB charger allows convenient recharging of system, with one hour of charging time giving four hours of riding coverage.
• System vest incorporates convenient connection system, allowing system to be connected to race suit quickly and easily for peace-of-mind activation of airbag and LED display.
• Category II CE Certified to the 686/89/EEC European PPE Directive, using a version of EN1621-4:2013, which guarantees impact protection performance between 45 milliseconds to 5 seconds.
• Design and manufacture CE certified to the 2007/23/EC pyrotechnic directive.
• System features Dual Charge capability for M-XL sizes (2XL garments have only single charge capacity).